In collaboration with Cody Dunstan-Brown and Sarah Somerville
Through our ethnographic research, we found there was a lack of accessible information on educating passengers about the East by West Ferry destinations and their history. For this project we decided to create a educational but accessible system for international tourists.
Touchpoint 1: Kiosk
The first touch point in our educational system is a Kiosk that helps users access information and education electronically before the information is pertinent. The Kiosk instills confidence to gain information without having to ask lots of questions to someone who might not have the information. 
Touchpoint 2: Tourist Card
The second touch point is a Tourist Card paired with a mobile app. The tourist card acts as a
 streamlined payment and access card, embedded with NFC technology. It makes the payment and travel around Wellington easy to navigate for tourists, meaning no added stress to ticket or booking systems. Another strength is the digital passport feature, as it acts as a souvenir that records tourists' Wellington adventures. An opportunity is to expand this to all of New Zealand and get a range of companies onboard.
This is a tourist card that pairs with a mobile application, the tourist card works as a quick access card embedded with NFC technology that allows the user to check in to a location with tag points provided around the city. When a user tags the card on the tag point, it notifies the mobile application on their location. 

You can buy this tourist card from a range of tourist attractions around Wellington but for this first Stage primarily buy them from the East/West ferry office at Queens Wharf. Tourists would be charged a higher rate for this card. As like a Snapper card you pay about $10 for the card, this would be the same. You would load money onto the card and it acts as a ticket system for all tourist attractions that are in collaboration with visit.welly. All you need to do to pay is to have the card loaded with money and tag to a tag point when arriving at your location. 
A payback option would also be available, if they don't want the card as a souvenir they would be able to return their card and get some of the money back that they originally paid to get. Returned Cards would then be cleared and reused with future users.
Once you tag your NFC tourist card on the tag point, the mobile application information will come up about your specific location with a range of company supporters and information. For example, whilst on the Ferry you can receive information about the locations you're going to, including Seatoun, Days Bay, Matui/Somes Island and Queens Wharf. Information would include what you can find there, the history, information about the service and safety instructions. If you were at Te Papa and tagged at a tag point information may include, food specials, exhibitions on at the time and workshops that may be taking place.
On the mobile application your tagged locations will be saved so that a digital passport is created, this passport is downloadable for when the user is finished their stay in Wellington & can keep this rather than feeling like they need to keep the app but still have a piece of memorabilia. Phase 2 could include going nationally and collaborating with companies such as Intercity and Air New Zealand. 
Touchpoint 3: Adventure Quest

The third touch point is an Adventure Quest, which is a user-oriented way-finding system. It acts as a way to get to a destination and provides information about that destination in the location it pertains to. The Adventure Quest uses multiple senses and engages the user to fully understand the information. The tourist can also pick exactly what they want to see and choose a completely personalised tour catered to them. An opportunity for this would be applying it to other parts of Wellington, as there is so much knowledge to gain. A potential threat would be that tourists may be going to Matiu Somes Island for a technology-free experience and that by the time the site comes to be QR codes could be irrelevant, but switching to NFC or RFID would save this.
​​​​​​​​​​​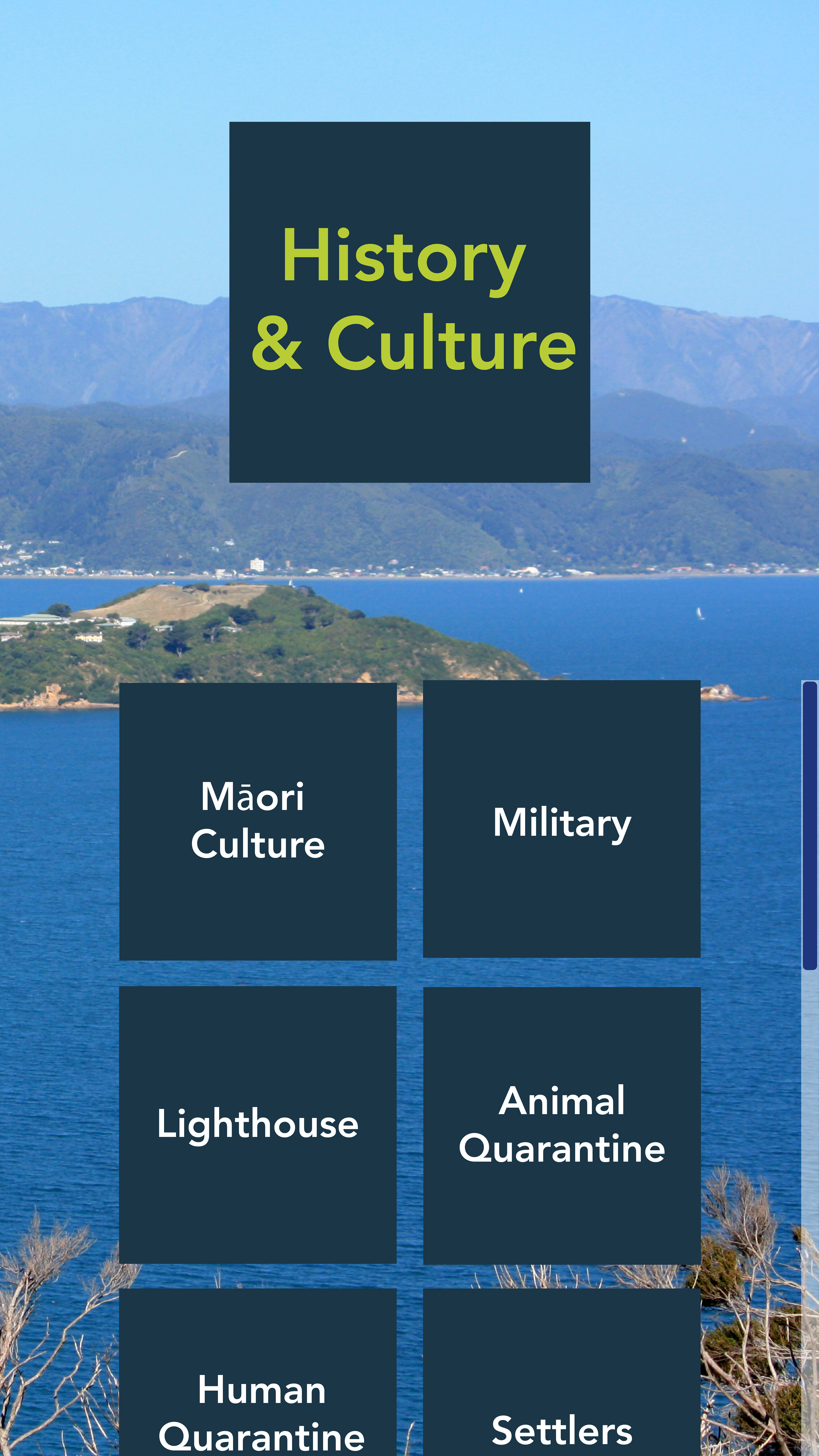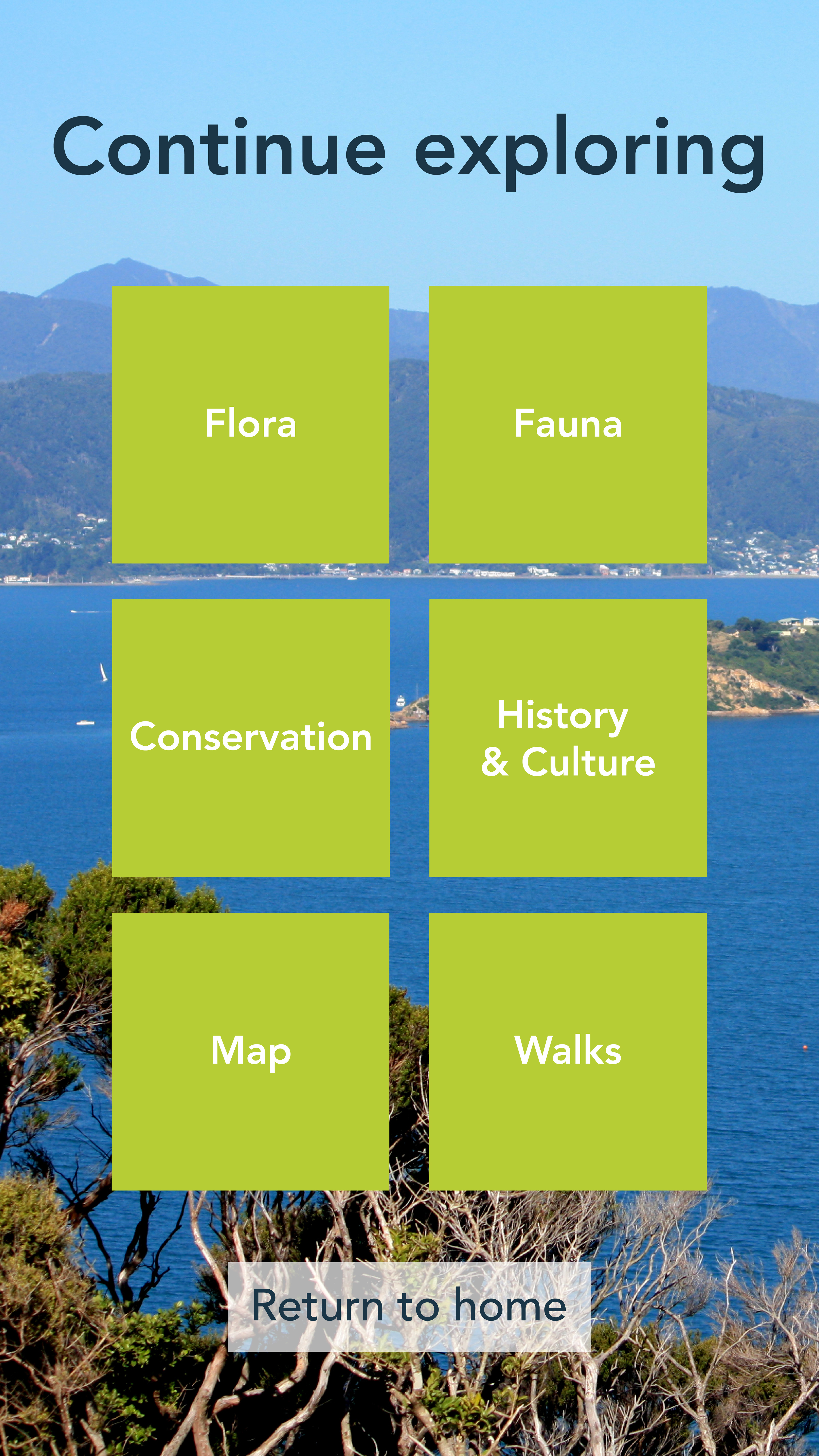 The Adventure Quest was born out of the research that one of the best ways to learn information is to engage as many regions of the brain as possible, through multiple senses. Using visual, verbal and touch to fully absorb that information. This translated into the Adventure Quest, by using the exact location for the full 5D experience as part of our education process. 
The Adventure Quest is a user-oriented journey, it allows for a much deeper immersion and satisfaction. It has the potential to really engage people in the process. Has a clear system, users will find it easy to use.
Each touchpoint within the system is made to cater to the needs of international tourists seeking to learn more educational knowledge about Wellington during their travel on the East by West Ferry.